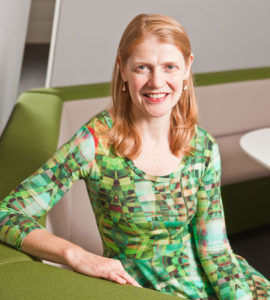 I'm writing today to announce that Fred Lee has been appointed co-CEO of NYCEEC, and I will be transitioning to NYCEEC's Board of Directors effective July 1st.  Fred will lead NYCEEC in partnership with Curtis Probst, who joined NYCEEC as co-CEO last year.  NYCEEC issued a press release today announcing this change.
It's been such a rewarding experience to launch and grow the country's first local green bank from very modest beginnings – a file folder from the NYC Mayor's Office and a desk at the NYC Economic Development Corporation – to an organization that has financed over $150 million of energy efficiency and clean energy investments.  Today, NYCEEC boasts a staff of talented, dedicated professionals who play a unique role straddling the worlds of finance and public policy to tackle a major challenge of our times – climate change.  We are growing in ways I couldn't have imagined in 2011, and we are now sharing our lessons with communities across the country to advance our mutual sustainability goals.
Over these past years, I've been fortunate to work with so many talented people striving to harness the power of private capital to drive investment in energy efficiency and clean energy.  My colleagues and I have had the opportunity to partner with New York City  to help implement some of the country's most significant policies to reduce the energy use and greenhouse gas emissions from our buildings.  It's been my honor to work with both New York City's and New York State's top leaders and thinkers in this arena.
I'm so thankful for the support NYCEEC has enjoyed from our philanthropic partners, our government colleagues, our lenders and our Board of Directors. This support has helped us achieve multiples of our capital in impact, and allowed us to expand geographically, focus on the needs of low-income communities, and take on exciting new challenges such as building financing markets for emerging technologies including net zero renovations, community solar and battery storage.
All this said, nothing is more gratifying than seeing such an impressive and dedicated team take on the leadership of NYCEEC.  Fred Lee has served NYCEEC in many capacities – from closing our first financing transaction, to serving as general counsel, to helping NYC create an exciting new commercial PACE loan program.  In his new role, Fred will partner with our extremely talented co-CEO, Curtis Probst, who has expanded our capital resources, developed new impact opportunities, and advanced our best practices in lending and risk management.  Curtis' creative thinking and fresh ideas have helped us craft an exciting new strategic plan targeting $1 billion in financing impact by 2025.
With new requirements for many NYC buildings to limit greenhouse gas emissions and with C-PACE rapidly becoming a reality in New York City, I anticipate significant growth in financing markets for energy efficiency and building-scale clean energy in our home community. NYCEEC is well-positioned to play a major role in these markets.
For me, it is time to step back from the day-to-day activities of the organization.  I'm excited to serve on NYCEEC's Board and to continue to help the company in an advisory capacity.  And I'm confident that NYCEEC will carry on its important work and achieve increasing impact under the able leadership of Fred Lee and Curtis Probst.
Sincerely,



Susan Leeds, Founding CEO