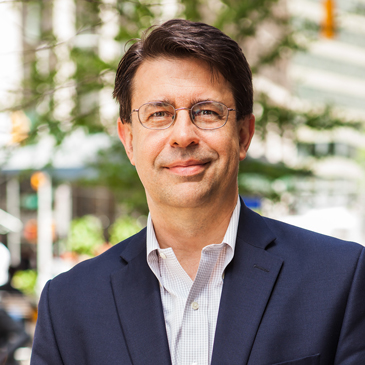 Curtis Probst became the co-CEO of NYCEEC in April 2018. He previously served on the Board of NYCEEC since 2015. As a co-CEO he is jointly accountable to the Board, and shares responsibility for the overall strategy and staffing of the organization. He also has specific oversight for certain organizational functions which generally focus on capital raising, treasury operations and risk management.
Prior to joining NYCEEC in his current role, Curtis worked for over three years as a Managing Director at Rocky Mountain Institute, a global energy think tank, leading their sustainable finance practice. Curtis previously worked at Goldman Sachs for over 15 years, most recently as a Managing Director in their investment banking division. Before joining Goldman Sachs, Probst worked at Salomon Brothers for over eight years, most recently as a Vice President in their structured and project finance group.
Curtis serves, or has served, on the boards of various organizations with an energy or environmental focus. Additionally, he has been an adjunct faculty member at Columbia University since 2016, lecturing on the topic of clean energy finance. He has spoken at numerous conferences in the United States, Canada and Europe, and authored or co-authored reports on different energy and financing topics.
Curtis received a BComm from the University of Calgary and an MPA from Columbia University. He is a Chartered Financial Analyst, and a member of the CFA Institute.