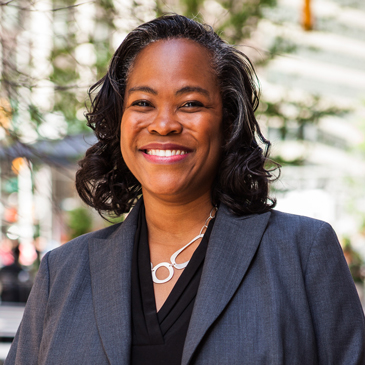 Naeemah is the Director of Operations for NYCEEC.  Naeemah is responsible for managing the operational and administrative affairs of the organization.
Prior to joining NYCEEC, Naeemah served as Director of Budget and Planning for the City of New York's Energy Management team at the Department of Citywide Administrative Services (DCAS), where she was instrumental in developing and managing financial and operational tools in support of the City's PlaNYC and One City: Built to Last initiatives to reduce greenhouse gas emissions from City government operations.  Naeemah has over 15 years of finance, strategy, and operational experience in the private, not-for-profit and public sectors.  She began her career in the financial services industry with tenures in Equity Research at Merrill Lynch, and in Credit Portfolio Management at Credit Suisse.
Naeemah holds a Bachelor of Business Administration in Finance from Eastern Michigan University, and received a Professional Certificate in Not-For-Profit Accounting and Governmental Reporting from New York University.